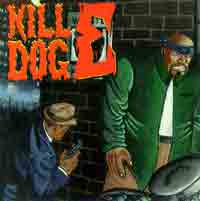 Du hip hop lourd, sombre et poisseux avec Anti pop consortium et Sensational entre autres.

Haha je viens de voir le cd sur amazon proposé en occasion a presque 200 euros.




Kill Dog E. is the alter-ego of engineer/producer/remixer Scott Harding (a.k.a. Scotty Hard), a Canadian native who came to New York to be a part of the hip-hop revolution of the late '80s. He achieved his goal, working with some of the major players in rap including Kool Keith, Cypress Hill, Boogie Down Productions, and, most recently, Wu Tang, not to mention cutting-edge talent like Vernon Reid, Bjork, and the Jon Spencer Blues Explosion.